Icons
CHRIST OF MARYKNOLL
Artist: Br. Robert Lentz, OFM
Artist's Narrative:
I have named this icon "Christ of Maryknoll" because Maryknoll and Orbis Books mean so much to me. Both endeavor to see the Christ among the least of us, and to serve the Christ that lives in the margins of this world. Maryknoll priests, brothers, sisters and lay people have been imprisoned in China and elsewhere for their work among the poor, the broken, the oppressed; Orbis has taken great risks to extend the Maryknoll vision.

I hope this icon will bring inspiration to all those who share in that vision. The icon does not make clear which side of the fence Christ is on. Is he imprisoned or are we? Through our cultural institutions and personal lives we all place barriers between ourselves and true happiness. We and our institutions also try to imprison Christ in various ways, to tame him and the dangerous memories he would bring us of our goals and ideals.
—Br. Robert Lentz, OFM, September 11, 2002
MARY, DAUGHTER OF THE POOR
Artist: Br. Robert Lentz, OFM
Artist's Narrative:
"Blessed are you, O Mary, daughter of the poor, who became mother of the Lord of kings. In your womb He has dwelt in whose praise the heavens are full. Blessed be your own breast, which has nourished Him with love, your mouth which has lulled Him, and your arms which have held Him. You have become a vehicle to bear a God of fire!"
(Syriac Marian hymn)
Christ of the Desert
Artist: Br. Robert Lentz, OFM
Artist's Narrative:
Out of the deserts of the Middle East comes an ancient Christian tradition. Although it has been overshadowed by the Greek and Latin traditions, it is their equal in dignity and theological importance. It is a Semetic tradition, belonging to those churches that use Syriac as their liturgical language. Syriac is a dialect of Aramaic, the language spoken by Christ himself.

This icon celebrates the richness of Syriac Christianity. The inscriptions in the upper corners read "Jesus Christ," and at the bottom, "Christ of the Desert." The Syriac language has ties to the earth that are deep and rich. It is more inclusive than most European languages. The theological experience of Syriac Christians is different because they have encountered the Gospel in such a language. Theirs is an unhellenized expression -- one that is neither Europeanized nor Westernized.

Semitic as it is, the Syriac tradition knows no dichotomy between the mind and heart. The heart is the center of the human person -- center of intellect as well as feelings. The body and all of creation longs to be reunited with God.

A constant theme in Syriac literature is homesickness for Paradise, a desire to restore Paradise on earth. Christians pray facing east because Paradise was in the east. This longing was expressed in monastic terms in ancient times, but its implications today reach far beyond monastery walls. With earthy roots, this longing for Paradise involves concrete responses in the realms of politics, ecology, and economics.
CAPTIVE DAUGHTER OF ZION
Artist: Br. Robert Lentz, OFM
Artist's Narrative:
For centuries Christians have called Mary the Ark of the Covenant. As they used other Jewish titles for her, seldom have they accepted the fact that she was a Jew. If Mary had lived in Nazi Germany, Mary would have been thrown into a concentration camp with other members of her race. Jewish Mary is the archetype of the Christian church, a church that stood by silently while her people were being exterminated. This icon is an act of repentance for Christian indifference, then and now.

We shudder at what the Nazis did, but 1,000 years of forced conversions and violent persecutions by Christians paved the way for the Nazi Holocaust. When the exterminations began, most Christian leaders followed the example of Pius XII and kept silent, fearing that Hitler might attack Christian institutions if they spoke out.

While their leaders kept silent, a handful of Christians did risk their lives to help Jews. One of these was a Russian nun in Paris, named Maria Skobtsova. "If we were Christians we would all wear the Star," she said. "If the Germans come looking for Jews, I'll show them an icon of the Mother of God!"

In this icon Mary wears a large yellow Star of David with the word "Jew" on her left shoulder. The Nuremberg Laws forced all Jews in Nazi territories to wear this badge. Jesus is wearing a prayer shawl over his Byzantine garments and is holding the Torah. The Hebrew inscription at the bottom of the icon reads: "Captive Daughter of Zion," and is taken from Isaiah 52.2, a text in which God promises to deliver Israel from bondage. In the background is the barbed wire fence of a concentration camp.

Anti-semitism is again growing in "Christian" countries, because it is easier to look for a scapegoat than it is to work for justice. The Madonna and Child stand before us as a challenge. We must never again stand by in silence. Never again can we claim not to know.
Jesus Christ: Liberator
Artist: Br. Robert Lentz, OFM
Artist's Narrative:
The Greek letters in the cross in Christ's halo are the divine name revealed to Moses in the burning bush: "I am who am." The inscriptions in the upper corners of the icon are Greek abbreviations for "Jesus Christ." Christ wears the traditional Greek garments of icons, whether they are from Russia, Syria, or Ethiopia, but now they have African colors: burnt orange of the Maasai and white of the Saharan peoples. Like most African men, He wears necklaces.

The justification for this icon lies in the text Christ holds (Matt. 25:31-46). "When did we see you…?" those on Christ's left will ask him at the Last Judgement. This text reminds us that Christ identified with the poor and oppressed of the world. The lives of the saints abound with stories about how Christ appeared as a beggar or a sick person in need. Christ has suffered in the Black members of His Mystical Body for many centuries -- slavery, exploitation, prejudice, and racial violence. The time has come to depict His solidarity with the Black peoples of the world -- in iconographic form.
MOTHER OF GOD: PROTECTRESS OF THE OPPRESSED
Artist: Br. Robert Lentz, OFM
Artist's Narrative:
Russian Christians for centuries have called Mary the Protectress of the Oppressed. In the language of poetry she is called the gate of salvation and the ladder by which God came to earth. Jesus Christ, the God/Man, is flesh of her flesh. Traditionally she has also been seen as the mother of all Christ's brothers and sisters, throughout the centuries and across the entire earth.

Mary is the archetype of the Church. In her person she embodies the qualities of Christ's Church itself. Despite European prejudice, however, Christ's Mystical Body is not white. All peoples and races belong to Christ. Moreover, Christ has assured us that He will always be found among the poor and oppressed. Where Christ is, there is His Church, according to an ancient Patristic adage. Perhaps the best depiction of Mary for our time of profound cultural change is a woman of color, a woman of the Third World.
Black Elk
Artist: Br. Robert Lentz, OFM
Artist's Narrative:
When he was nine years old, Black Elk, the great Oglala holy man, was shown a magnificent vision by the sacred Thunder-beings of the West, which changed his life. He was taken up into the heavens and given powers to heal and protect his people. He was also shown glimpses of their future. He was charged with their welfare and given a symbolic red staff to plant in their midst and bring to life. The vision took on universal qualities. "And I saw that the sacred hoop of my people was one of many hoops that made one circle, wide as daylight and as starlight, and in the center grew one mighty flowering tree to shelter all the children of one mother and one father."

Several years later he was present at the Battle of the Little Big Horn. In 1886 he joined Buffalo Bill's Wild West Show so that he could learn more about white people and their ways. His travels with Buffalo Bill in Europe had a lasting impression on him. In 1889, he returned to his tribe and the following year survived the slaughter at Wounded Knee.

Although he became a Roman Catholic and even worked with the Jesuit missionaries as a lay catechist, his vision and its responsibilities continued to haunt him. The missionaries insisted that he abandon the traditional religion of his people, but in his old age he collaborated with two Anglo-American writers to record the sacred rites of the Lakota, and his own life and shamanic vision. He grieved that he had never been able to care for his people as he had been charged -- to bring the sacred red staff to life -- and asked to be taken to Harney Peak in the Black Hills so that he could pray for this once more.

In this icon, the Thunder-beings, are depicted as flaming eyes, for they have no bodies, but only eyes from which bolts of lightning flash. They are spirits who purify the earth. Black Elk is praying for the earth and its people with his sacred pipe. The red staff, planted in the great hoop which is our planet, has brought forth its first leaf as a symbol of life and hope.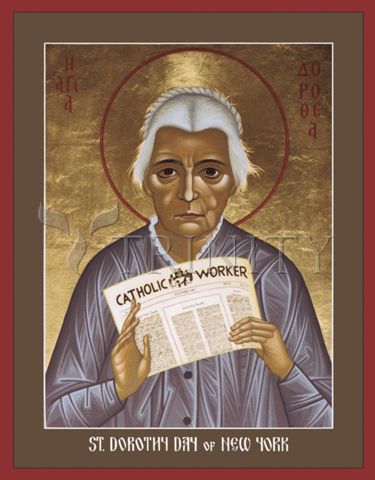 Dorothy Day
Artist: Br. Robert Lentz, OFM
Artist's Narrative:
Dorothy Day helped found the Catholic Worker movement. She spent the last 48 years of her life as a Christian anarchist on the margins of society. In a church organized like a pyramid, her Catholic worker houses were small, informal and decentralized. She traveled alternative paths where other members of the church often found it difficult to go. "The only way to live in any true security," she would point out, "is to live so close to the bottom that when you fall you do not have far to drop, you do not have much to lose."

She and her companions lived the beatitudes, embracing voluntary poverty. Their poverty included bedbugs, roaches and rats. She often spoke of foolishness for Christ's sake, and like St. Paul, called herself such a fool. "To attack poverty by preaching voluntary poverty seems like madness," she said. "But again, it is direct action."

Bishop O'Hara of Kansas City once told her, "You lead and we will follow." Dorothy did lead. When bishops were wrong, she told them so. As prophet she opposed any use of religion as a prop for nationalism, capitalism or militarism.

Even when religious leaders opposed her vision, and their lifestyles scandalized her, Dorothy remained fiercely loyal to the church. Because her deep faith was rooted firmly in the sacramental life and traditions of the church, she was not only a faithful follower of the Gospel but also perhaps this century's most powerful witness.

"Don't call me a saint!" she once said. "I don't want to be dismissed so easily." Dorothy Day died on November 29, 1980. Now although Christians of many confessions easily recognize her as a saint and prophet, no one can dismiss the profound impact of her life and contribution.
Harvey Milk
Artist: Br. Robert Lentz, OFM
Artist's Narrative:
Harvey Milk was the first openly gay person to be elected to high public office in the U.S. He was not a professional politician, but ran for City Supervisor in San Francisco because he felt ordinary people were being pushed aside there by monied interests. "It takes no money to respect the individual," he said. "The people are more important than words." As supervisor he fought consistently for the rights of all of those without a voice. These people included blue-collar workers, the elderly, racial minorities, and gay men and women.

Cardinal Juan Fresnos of Chile has said, "Whosoever stands up for human rights stands up for the rights of God." His words are an echo of what Christ has told us He will say at the Last Judgement. "Whatever you did to the least of my brothers and sisters, you did to Me." Despite all the emphasis Christians put on their sexual ethics, Christ's one question at the end of time will deal with concrete acts of love and compassion.

The day of his election, Harvey tape-recorded his last testament, in which he acknowledged that he would most probably die violently. The last words of that message were "You gotta give them hope." On November 27, 1978, he was shot five times at close range by another politician who was infuriated by his defense of gay and lesbian people. That night 40,000 people, men and women, old and young, gay and straight, kept candlelight vigil outside City Hall.

In this icon he holds a candle, keeping vigil himself for the oppressed of the world. He wears a black armband with a pink triangle. This was a Nazi symbol for homosexuals and represents all those who have been tortured or killed because of cultural fears regarding human sexuality. Their number continues to grow with each passing year, and the compassionate Christ continues to say, "As long as you did it to one of the least of these, you did it to Me."
Jalal Ud-din Rumi
Artist: Br. Robert Lentz, OFM
Artist's Narrative:
Little more than a century after the death of Mohammed, Muslim armies had created a vast empire. The piety, poverty, and temperance of the first califs were replaced by luxury, power, and despotism. The empire was losing its connection with Islam. While the upper classes knew cultural splendor and extravagance, most of the populace lived in poverty and had few rights. At the height of this decadence, the Sufi movement voiced its protest.

Sufis risked imprisonment and even death in their opposition to materialism and tyranny. Orthodox Muslims considered Sufis a scandal because they rejected formalism in external ritual. While Sufis always maintained an outward connection with Islam, their doctrine began to embrace all religions.

Jalal Ud-din Rumi was born into a wealthy family in what is now Afghanistan. They slowly migrated southwestward into modern Turkey to escape Mongol invasions. As an adult he was standing one day by a goldbeater's shop, repeating the name of God, when he was caught into ecstasy. He heard the name of God in every sound and began to whirl. Later he founded the Mevlevi Sufi Order, also known as Whirling Dervishes. His followers repeat, "There is no God but God" as they turn in circles. They empty their hearts of all but the thought of God and whirl in the ecstatic movement of God's breath.

Rumi is often called the Sultan of Love. He taught that love flies into the divine presence, while philosophy and theology lag slowly along dusty roads. He is considered the greatest Sufi poet in the Persian language, and his book, the Hassawi, is called the Persian Koran.

In this icon Rumi wears the tall felt hat and turban of the Mevlevi Order. The gold circle he holds contains an endless repetition of "There is no God but God," in stylized script. His face is based on a miniature portrait from an old manuscript.
MATUSHKA OLGA MICHAEL
Artist: Br. Robert Lentz, OFM
Artist's Narrative:
Olga was a native Alaskan of Yup'ik origin and the wife of an Orthodox priest in Kwethluk village, on the Kuskokwim River. During her life she was known for her compassionate love and the care she showered on those who had suffered any kind of abuse, especially sexual. Despite her family's poverty, she was generous to those who were poorer, even giving away her children's clothing to the needy. She loved to knit and clothed many with her handiwork. She was a skilled midwife and healer, and was known for her ability to tell when a woman was pregnant, even before the woman herself knew.

Veneration for her has increased steadily since her death. Some consider her a patroness and healer for those who have been sexually abused.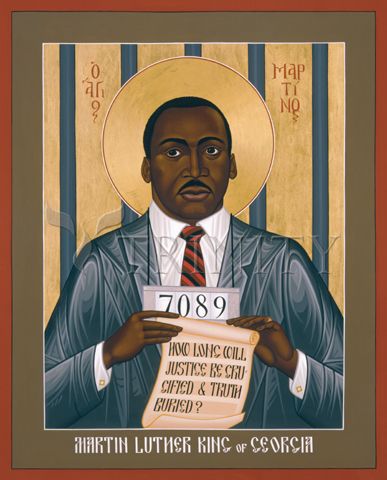 Martin Luther King, Jr.
Artist: Br. Robert Lentz, OFM
Artist's Narrative:
This icon depicts Martin Luther King, one of the martyrs of the Twentieth Century. He was an ordained minister of the Baptist Church. From 1955 until his death, he led a campaign of nonviolent resistance in the United States against racial oppression and injustice. The number he wears around his neck is from a "mug shot" taken one of the many times he was arrested by American police for resisting unjust laws. The prison bars behind him represent the occasions he was placed in jail, and also the oppression and slavery of Afro-Americans in the United States. The text on his scroll is from his speech in Albany, Georgia, on December 14, 1961. The Greek inscription by his head reads, "Holy Martin." Since the eighteenth century, the faith of African American Christians in America has been tied to the struggle for freedom. Martin Luther King renewed the bond between faith and political action like the Old Testament prophets. Although his life was threatened many times, he continued to expose himself to danger. He was shot on April 4, 1968, in Memphis, Tennessee.
Mohandas Gandhi
Artist: Br. Robert Lentz, OFM
Artist's Narrative:
Gandhi spent his life fighting evil throughout non-violent resistance. For him the liberation of India was a religious duty. He saw it as a step toward the liberation of all humankind from the tyranny of violence in others, but especially in themselves. When violence could be abolished universally, Gandhi said, "God will reign on earth as he does in Heaven." Gandhi was murdered on January 30, 1948.

Christ proclaimed the Kingdom of God. Gandhi, like every individual who is directed toward Christ's ideals is a bearer of that Kingdom. Icons are images of the Kingdom, windows into Heaven.

In this icon, Gandhi holds salt which he has gathered by the ocean -- an act forbidden by English colonial law. The salt also reminds us of Christ's words: "You are the salt of the earth." The Greek inscription by his head reads "Holy Mohandas Gandhi."
OSCAR ROMERO
Artist: Br. Robert Lentz, OFM
Artist's Narrative:
The model for bishop in the ancient church was a shepherd who walked before his people through whatever dangers they might face. He stood among the poor and the oppressed. And like the Apostles before him, he died a martyr.

While medieval bishops became princes and many modern bishops become bureaucratic administrators, the bishop as pastor among the people is reappearing in the church. Oscar Romero was such a bishop.

Although the wealthy class called him a friend of revolution, he was a peacemaker. He knew that simply ending rebel violence would not end the greater violence induced by poverty and hunger. Society had to be restructured so that children would not die of malnutrition and disease while their parents could not find decent work. Though he encouraged peaceful reform, where violence was unavoidable he worked to overcome the spirit of hatred and vengeance.

His pulpit became a font of truth when the government censored news. He risked his own life as he defended the poor and oppressed. He walked among the people and listened. "I am a shepherd," he said, "who, with his people, has begun to learn a beautiful and difficult truth: our Christian faith requires that we submerge ourselves in this world."

Killed by an assassin's bullet as he celebrated Mass on March 24, 1980, his last words described the grain of wheat that must die in order to bear fruit. Like his Savior, he died poor, forgiving his murderers. He was buried in the cathedral where he had preached justice. And now people from many nations come to his tomb to find strength in their struggle.
BLACK LIVES MATTER MADONNA
Artist: Br. Mickey McGrath, OSFS
COMPASSION MANDALA
Artist: Br. Robert Lentz, OFM
Artist's Narrative:
"…have no fear of human sin. Love people, even in their sin, for that is the semblance of Divine Love and is the highest love on earth. Love all of God's creation. The whole and every grain of sand of it. Love every leaf, every ray of God's light. Love the animals, love the plants, love everything. If you love everything, you will perceive the divine mystery in things. Once you perceive it, you will begin to comprehend it better every day. And you will come at last to love the whole world with an all-embracing love."
(Fyodor Dostoyevsky, The Brothers Karamazov)